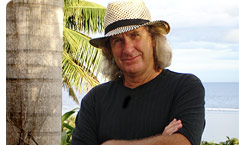 Producer/Director; Peter Avery
Peter has been in the creative industries for 30 years beginning as an Art Director progressing to Creative Director before making the break to Director of TVCs in the early 80s.
A background in Art Direction and Production design has enabled those skills to be developed on film. "Moving images allow us to express emotion and deliver information in a powerful way. We have a responsibility to both the audience and the client to be both truthful to the concept while we entertain".
Along the journey Peter has picked up a few accolades including; Axis Gold, New York Art Directors Hall of Fame, London Art Directors Club, Clio, Cannes Lion, Mobius; International film & Video Gold, NBR Campaign of the Year.
"This is a constantly challenging industry and I enjoy the collaboration required to be part of it and most importantly, I still love what I do".